What is Organic Pea Protein Powder?
Organic Pea Protein Powder is a plant-based protein supplement that is derived from organic Canadian yellow peas. The powder is made when organic Canadian yellow peas are ground up into a fine powder. The powder is then soaked in a water-based saline solution to separate the protein from the starch and the fiber. The protein is then dried, processed and filtered again. It is designed to serve as an alternative to animal-based protein supplements such as whey protein, casein protein, egg protein, and collagen protein. Made from yellow peas, it is 100% plant-based and vegan friendly.
Who is it for?
Organic pea protein powder is great for anyone who wants add more protein to their diet. It's also hypoallergenic which means it's perfect for people who suffer from gluten, soy or dairy allergies or people with lactose intolerance.
What are the benefits of Pea Protein?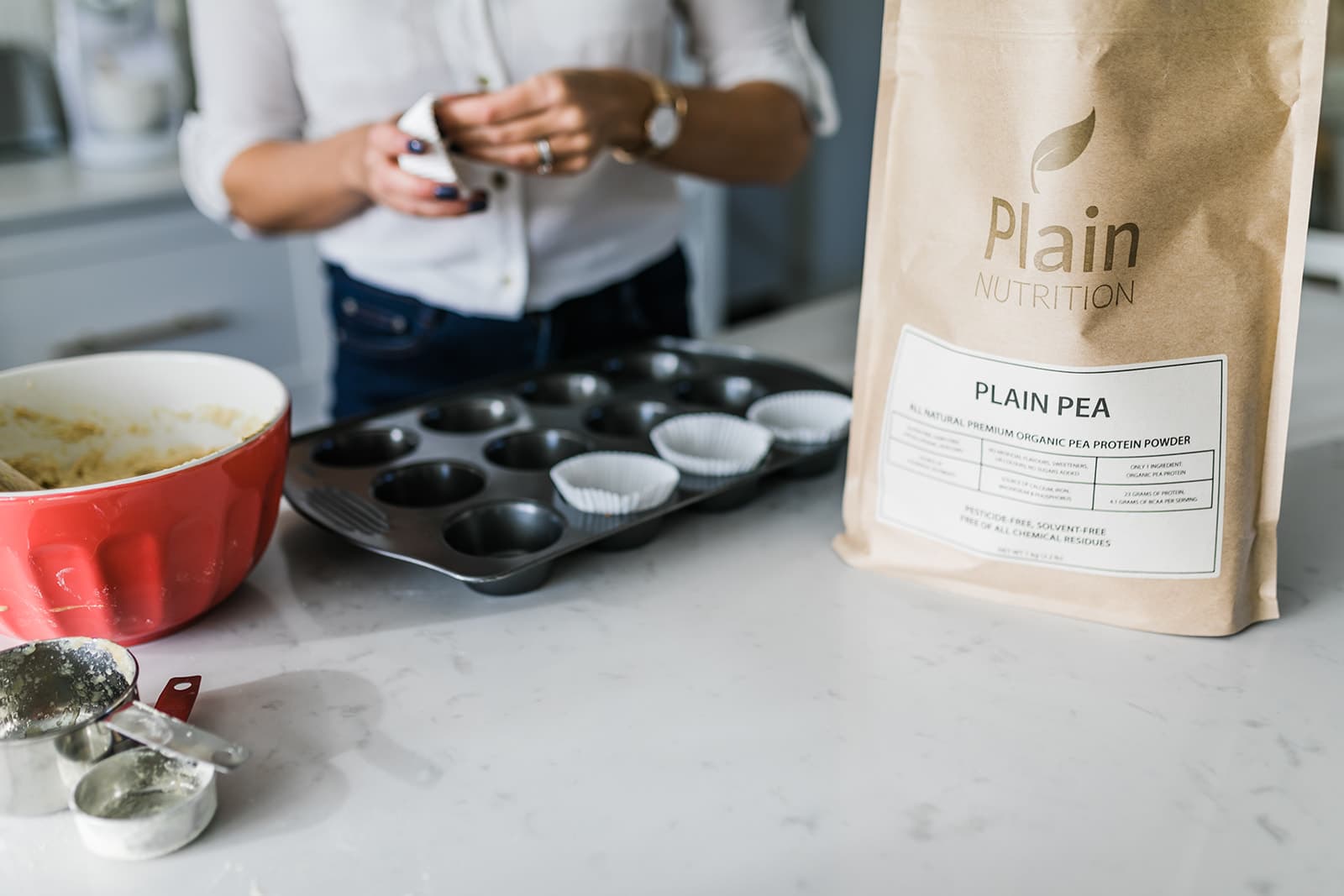 There are plenty of benefits associated with Organic Pea Protein Powder. These include, but are not limited to:
Muscle building and recovery
Protein is needed by the body to initiate a process known as protein synthesis. Protein synthesis is a natural process whereby the body synthesizes new muscle proteins and tissues. The more we produce, the bigger and stronger the muscles become, and the faster they will recover after a workout.
Medium-fast absorption rate
If you're looking for a relatively fast absorbing protein source, pea protein is useful. It can be absorbed at a medium-fast rate, allowing it to quickly enter your bloodstream when you need the nutrients the most.
Amino acids
Another benefit of pea protein is the fact that it boasts an impressive amino acid profile. Though it is not quite considered a complete protein source as it provides seven of the nine essential amino acids needed by the body.
Vegan-friendly
One of the biggest selling points associated with organic pea protein is the fact that it is vegan-friendly. Vegans require protein like everybody else, and as they can't consume animal-derived ingredients, getting sufficient amounts of protein can be difficult. Thankfully organic pea protein powder is vegan-friendly and offers a simple and effective way of getting sufficient amounts of protein into your body, without having to rely on animal-derived ingredients.
Great source of arginine
Arginine is one of the most beneficial amino acids in existence. Not only does it help to promote muscle growth and repair, but it also helps to strengthen the immune system.
Top Pea Protein Powder Benefits:
Promotes muscle growth
Can increase energy levels
Helps to suppress cortisol production
Medium rates of absorption
High amino acid content
Rich in arginine
Strengthens the immune system
Plant-based protein source
Hypoallergenic
Vegan-friendly
Is pea protein powder good for weight loss?
When people think of pea protein powder, and protein in general for that matter, they generally think of protein for the growth and repair of muscle tissues. Bodybuilders looking to bulk up obviously consume a lot of protein, and for good reason. It turns out, though, that pea protein is also very useful for weight loss. If you're struggling to lose weight, supplementing with pea protein powder is extremely beneficial. This is due to the fact that protein is thermogenic, which means that it increases your metabolism as it digests and is absorbed into your bloodstream. The faster your metabolism is, the more energy you will have and the more calories you'll burn. Pea protein powder also increases lean muscle tissue production and repair. The more lean muscle you carry on your frame, the faster your metabolism will run. As well as that, it is also virtually fat free and is low in calories. Roll all of these advantages into one, and you have the ultimate recipe for a leaner, ripped, more defined physique.
Is pea protein powder easy to digest?
One thing that people have been particularly pleased with when talking about pea protein, is the fact that pea protein is considered to be especially easy to digest when compared with other forms of plant-based protein. Pea protein has a digestibility rate of 94%. In simple terms, this means that the vast majority of it will be broken down and digested when consumed, rather than putting your gut under increasing strain and stress. It also has an impressive rate of bioavailability, which means that you absorb and utilize a good portion of protein from it when consumed, rather than having it go to waste during digestion. Although bioavailability rates aren't quite as impressive as animal-based protein sources, pea protein is more bioavailable than plant-based proteins such as hemp, soy, and legumes. Because of this, pea protein scores relatively highly in terms of rates of digestion, making it a real winner in many people's eyes.
Is pea protein powder fast or slow digesting?
So, we've looked at whether or not pea protein is easy to digest, but it is now time to take a look at whether it is fast or slow digesting. Well, just to be awkward, pea protein is neither a fast digesting protein, nor a slow digesting protein. It is in fact considered a medium absorbing protein. It neither absorbs rapidly, nor slowly. This can be both beneficial, and slightly less beneficial. It is slightly less beneficial in that we need protein in our cells quickly at some points, and the quicker it is absorbed, the better. Instantly following a workout for example, the sooner you can get protein into your muscles the better. It might not absorb quite as rapidly as whey, but pea protein still absorbs faster than many other plant-based protein sources out there, making it very useful. Because it provides a fairly sustained stream of protein and amino acids, it is also useful for times when you're going without food or sustenance for a prolonged period of time. Again, it might not break down as slowly as casein protein, but it will certainly keep you going for an hour or two when you need protein but can't eat.
What does pea protein powder taste like?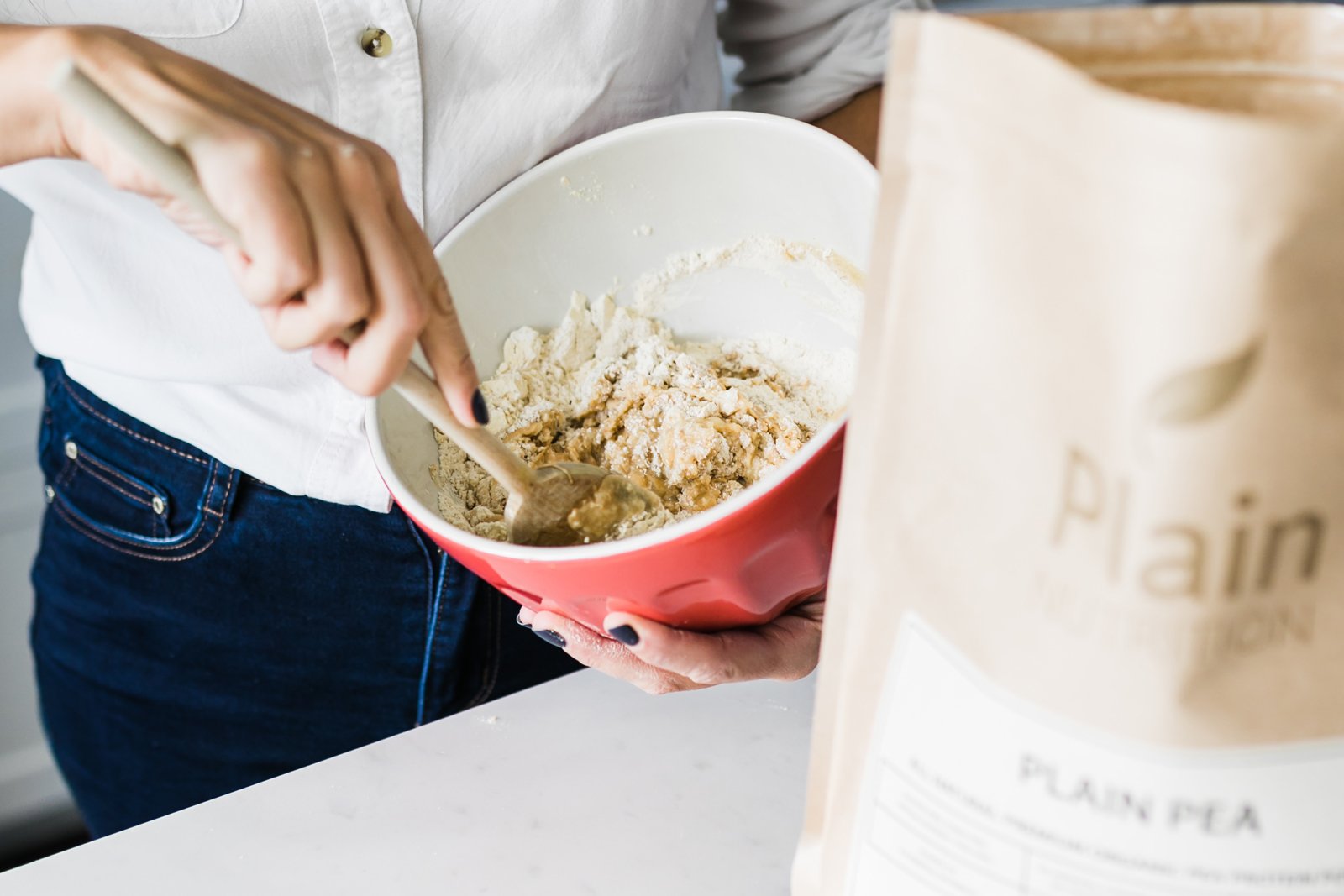 One of the biggest misconceptions surrounding pea protein, is that it basically tastes like eating or drinking raw blended up peas. It doesn't. Pea protein supplements are actually very tasty. It has a distinctly mellow and neutral taste with a very slight scent of peas. It can be combined with almond milk for example, to provide a rich and nutty protein shake that gives you a whole variety of health benefits and tastes wonderful in the process. As well as that, pea protein supplements also blend more easily than some other plant-based proteins and they provide a smooth and creamy consistency, instead of a lumpy, gritty, and chalky texture like some other protein supplements out there. You can even get pea protein supplements with flavourings added to help give them an even nicer taste. Chocolate, strawberry, and vanilla are generally all available, though some manufacturers offer their own unique flavourings, so it would depend on where you were to purchase them from.
Is hemp protein better than pea protein?
When people talk about plant-based protein sources, there are generally three which spring to mind. These are: Brown rice, pea protein, and hemp. Hemp and pea protein stack up very well against one another nutritionally, though some argue that one is better than the other. Hemp protein and pea protein are similar in that they're both plant-based, but they each offer their own unique benefits and disadvantages. Hemp protein for example, offers additional nutrients in the form of healthy fats such as omega-3 fatty acids. These promote brain health, cardiovascular health, and more. Hemp protein is also a complete protein in that it contains all nine essential amino acids we need in our diets. Essential amino acids are amino acids which we need, but cannot synthesize naturally. Pea protein has a more impressive bioavailability, though, which means that we absorb more protein per shake. On dry weight, pea protein also offers around 80% protein, as opposed to hemp, which comes in at just 74%. This basically means that we absorb more protein from pea protein than hemp, because it contains more. The two are both very good for you, and in terms of which is best, it's down to you to decide which offers the most suitable benefits.
What are the differences between pea protein and pea protein isolate?
When shopping for pea protein powders, you'll likely find that you encounter some supplements labelled as pea protein (which is a concentrate), and some labelled as pea protein isolate. What are the differences and which are the best? Well, the basic difference is that pea protein isolate will undergo additional processing and filtration using chemical solvents, to remove even more starch, fiber, carbohydrates, and fats and leave you with an even purer source of protein. Pea protein concentrate and isolate both begin life in exactly the same ways, but the key difference is that isolate uses a chemical solvent extraction procedure and provides upwards of 90% pure protein per serving, whereas concentrate uses a water-based extraction procedure and will provide around 80% pure protein. But what most people don't know about this key difference is that because most of the fiber, carbohydrates and fats are stripped away from an isolate, your body isn't even able to absorb as many nutrients as it would get from a concentrate. Because pea protein concentrate has more of the natural fiber, carbs and fats, is the more bioavailable pea protein powder. This means that your body will be able to absorb and use more of the nutrients when compared to an isolate. Even though concentrates can be less expensive than isolates because there is less manufacturing and no solvents involved, they are the superior source of protein.
Is pea protein powder keto friendly?
With ketogenic diets now more popular than ever, people often wonder whether pea protein is keto friendly or not. After all, peas generally contain carbs and starches, which are off limits on keto. If you opt for a pea protein isolate supplement, with even more carbohydrates and starches removed, you'll find that these supplements can indeed be consumed on a ketogenic diet. A good quality pea protein powder will contain roughly 1 – 2% carbs, which is low enough to make pea protein keto friendly.
Does pea protein powder have side effects?
Finally, we're going to look at whether or not pea protein powder has side effects. A few questions regarding side effects include:
Does pea protein cause gas?
Pea protein does not cause gas any more than any other form of protein. Excessive amounts of protein can cause gas, and that includes pea protein, but this is no higher or lower than any other protein source.
Does pea protein cause bloating?
Pea protein does not cause bloating due to the fact that it is digested fairly quickly, and it has a high bioavailability. This basically means that your body is able to digest it fairly fast, and use more of it as nature intended. Once digested, the protein is used around the body, rather than sitting in the gut and causing bloating and gas.
Is pea protein inflammatory?
In actual fact, pea protein can help to reduce inflammation in the body, as it helps to prevent acidosis and restores your body's natural PH levels. Animal-derived proteins such as whey, are more acidic and acidic environments promote inflammation in the body. So, no, pea protein does not cause inflammation, it actually helps to reduce it.
Organic Pea Protein Features
Gluten-free, Dairy-free, Hypoallergenic (free from lactose, gluten, dairy, egg and soy)
Organic and Non-GMO (pesticide-free and free of all chemical residues)
No added flavours, sweeteners, or colours
Only 1 ingredient: Organic Pea Protein
Source of 3 essential nutrients
Source of Calcium, Magnesium & Iron
23 grams of protein, 4.1 grams of BCAA per serving
Nutrition Facts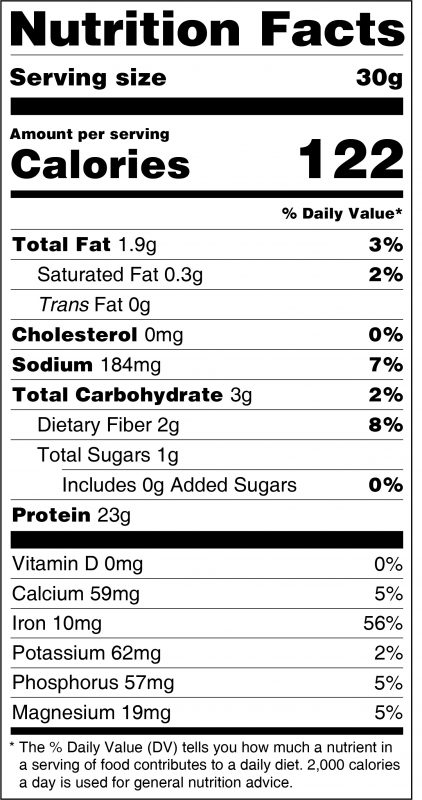 Amino Acid Profile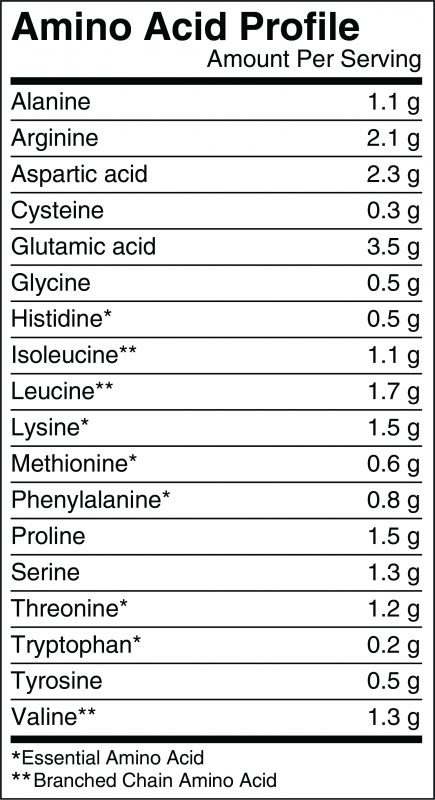 Ingredients
Organic Pea Protein
Directions
Mix 30 grams of organic pea protein in 8-12 oz of water, almond milk, or your favourite beverage.
For best results, use a shaker bottle or blender and shake or blend for approximately 10 – 20 seconds.